Building Sustainable Architecture In Arizona
Sustainable construction is construction that meets the needs of the present, without compromising the ability of future generations to meet their own needs. The sustainability factor of each project depends on the project's goals.
The Three Pillars of Construction Sustainability
The elements in the matrix that make up sustainability – Social (communal space and health), Environmental (preservation and conservation of resources and reduction of carbon footprint), and Economic (consumption and waste pattern, or energy use) – are often referred to as the three pillars of sustainability.
The goal of sustainable design and construction is to bring into balance the elements of these three categories in a product that that will have minimal impact on future generations.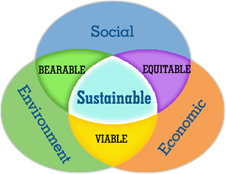 The Construction Company That Meets Your Needs
BFL Construction is here to meet your sustainable construction needs, assisting the design and construction teams with energy efficient designs, and environmentally friendly and safe practices. We'll help you examine feasible strategies to set attainable sustainability goals without limiting your commitment to functional, efficient, healthy, and ecologically responsible building and site design. Our goal is to assist our teaming partners to determine the level of your sustainable project aspirations.