From Joint Venture to Joining Forces
Early in 2018, BFL Construction Co., Inc. was purchased by the JV Driver Group (JVD), an international construction and industrial maintenance firm based in Alberta, Canada.
As explained in the Summer 2018 edition of the magazine BizTucson (click on the magazine cover link at the top of this website to read all articles), the decision to join forces started with a meeting in Phoenix between JVD mining construction expert Bill Elkington, BFL CEO Garry Brav, and BFL's new president David Larson. The three were discussing the possibility of doing joint ventures for mining facility projects in Arizona.
At the time, Brav was researching ways to ensure the future of BFL once he let go of the reins. After the initial JVD/BFL meeting, the JVD executives contacted Brav and Larson about the possibility of acquiring BFL.
Opportunities for Growth
Since it's launch in Alberta in 1989, JVD has expanded its reach and its capabilities partly by acquiring other Canadian construction firms in Vancouver, British Columbia, and elsewhere. JVD Group companies are top in their fields of high-rise residential and office construction, general commercial construction, civil infrastructure, petroleum processing and other large industrial facilities, and industrial maintenance all over the globe. The company has operations in Houston, TX, and owns a steel fabrication facility in Phoenix, AZ, so further expansion into the growing Arizona market made sense for the Canadian firm.
As JVD President Chuck Sanders told BizTucson, "'…All over North America, we look for opportunities like BFL. When you find those opportunities, you get to know them and you've either got a good alignment or not. We fell in love with BFL right away.'"
Within a few months, JVD and BFL had negotiated an acquisition deal that allowed BFL to remain autonomous while also having the backing of a company with $1.2 billion a year in construction volume — the kind of backing that would help BFL pursue bigger projects and new markets. As Brav noted to BizTucson, the acquisition "'gets us [now] to where it would have taken us another 10 years to get to with a little luck and some breaks."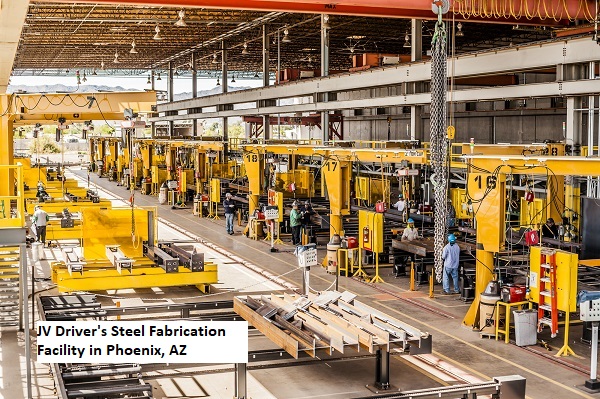 At the same time, JVD appreciated BFL's expertise in hospital, general medical, biosciences research, and behavioral health facilities, a market niche that JVD had not intensively pursued.
As part of the acquisition, BFL merged with a small JVD partner firm in Phoenix, Luke Builders; the merged company is still called BFL Construction Co., Inc. This gave BFL an office in Phoenix as well as Tucson. BFL's multifamily housing division, formerly known as Preferred Apartment Builders, is now called BFL Builders.
Learn more about JV Driver Group at

JVDriver.com