Garry Brav, CEO and Founder
Garry Brav established Brav & Foreman Construction Company, Inc. in 1973. BFL Construction Company, Inc. was formed in 1977 when Brav & Foreman formed a new company with NICO Construction Company, which was listed on the NYSE as LVI Group. During that period Garry was responsible for the Tucson, Phoenix and Albuquerque operations. In 1984, Garry bought back the BFL stock owned by LVI Group. Under his leadership, BFL expanded the business from constructing tenant improvements to multi-million dollar commercial projects in Tucson and throughout Arizona. BFL Construction has been ranked as one of Tucson's "Top 10" commercial contractors for the past ten years, and was ranked by the Phoenix Business Journal as the 23rd largest in the state in 2017.
Garry takes great pride in the company's reputation for superior work and the dedication and loyalty of his employees, some of whom have been with the company more than 25 years. Under the umbrella of BFL Ventures, Garry's interests have expanded to other types of development. His partnerships include Alta Vista Communities, a developer of multi-family housing projects, Preferred Apartment Builders, a residential multi-family construction firm, Fairfield Homes, a single family residential developer, and real-estate development entities for commercial and educational projects. Through these various companies he strives to create his own market by proactively seeking business from companies or individuals that want to engage in a collaborative process.
His community involvements have included: American Cancer Society of Southern Arizona Chairman of the Board, and Co-Chair of the Capital Fund Raising Campaign for their Tucson headquarters. He is past Chairman of the Phoenix Chamber of Commerce Development Services Committee, and was involved in developing the mid-rise zoning ordinances for the Camelback Corridor in Phoenix.
Currently he focuses his energy on the Southern Arizona Leadership Council (SALC), Desert Angels, and the economic development organization Sun Corridor, Inc. For the past several years Garry's primary charity has been the El Rio Community Health Center, because he understands the important role El Rio plays in keeping Tucsonans healthy regardless of their financial status. He has received honors including the American Cancer Society's Life Achievement Award, the Urban League's Man of the Year, and the United Latin American Citizens' Community Service Award.
Originally from Chicago, Garry graduated from the University of Arizona with a Bachelor of Science degree in Business Administration. He thrives on the creativity and variety in his work and interests, and he stresses the highest of standards of integrity, trust, performance and accountability.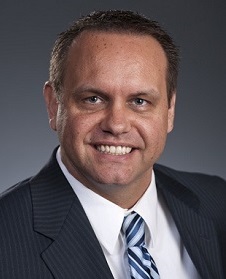 David Larson, President
David Larson started at BFL Construction Company Chief Commercial Officer to enhance the company's commercial strategy. At the end of 2017 he was promoted to President. In this role he works with BFL founder and CEO Garry Brav to continue BFL's excellent track record BFL in Southern Arizona, spearhead the expansion into other construction specialties, and manage other aspects of corporate development.
Larson brings 20 years of expertise in both business management and the construction industry to the job. He has a Bachelor of Science degree in Construction Management from Brigham Young University and an Executive Master of Business Administration from Arizona State University. Most recently, he served as the project/business development manager for The Planning Center, where he played a critical role in expanding the company's operations from Tucson to Phoenix.
He also has worked as vice president of operations for CCNS Consulting, an IT services firm in Scottsdale, and in planning and strategic management positions for Montecito Communities, Centex Homes, Pulte Homes, and Southwest Homebuilders. He served on the Board of Directors for TELCO, a company focused on developing a new shipping port in Guaymas, Sonora, Mexico. In 2016 he and two partners founded Axolotl Biologix, a Phoenix-based regenerative medicine company.

Delbert Dittmer, Sr. Vice President, Project Manager/Estimator
Delbert Dittmer started in the business working for his father's construction company in Iowa. He founded his own construction business in 1973 and sold the business in 1986 when he moved to Arizona. He then began working with BFL Construction Company as a Field Superintendent.
In 1995 he was promoted to Project Manager/Estimator. Two years later he was promoted to Vice President, Senior Project Manager and is a stockholder of the company. His extensive experience includes knowledge of health care code requirements, medical facility operations, processes to ensure hospital operations can continue during construction, and maintaining construction budgets while keeping projects on schedule.
He has successfully completed over 450 healthcare projects including hospitals, imaging centers, surgical centers, and medical office buildings. He has certifications from a number of organizations, including the American Society of Healthcare Engineers (ASHE), the Occupational Safety and Health Administration (OSHA), and the Healthcare Contractor's Certificate Renewal Program; he's also an expert in green building, managing multiple locations, storm water pollution prevention, scaffolding, LEED, and AIG guidelines.